Image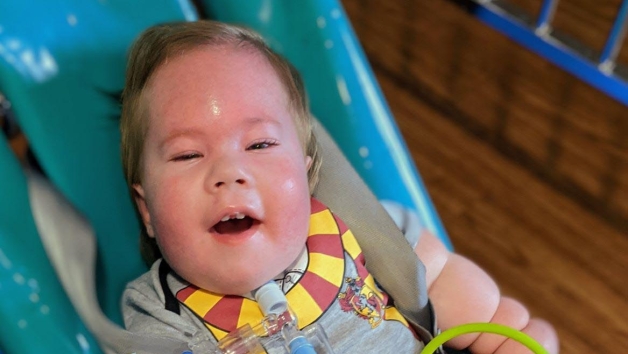 Henry Ketcham
Pediatric Specialty Care VIP
Balloons, a birthday cake, wrapped presents, and a room filled with family and friends is the perfect way to celebrate a first birthday. For Matt and Jenny Ketcham, this celebration is extra sweet because their birthday boy is finally home!
 
After spending nearly eight months in the neonatal intensive care unit at Children's Hospital and Medical Center, Henry transitioned to Ambassador Health Pediatrics.
"We were recommended to Ambassador by the NICU team as a way to transition Henry home," stated Jenny Ketcham, Henry's mother. "With Henry being trach and vent dependent, we went to Ambassador to get additional training from the nursing, respiratory, and therapy teams."
Their training and experience in the NICU had prepared Matt and Jenny to jump right into providing care for Henry while he was at Ambassador Health. The time that Henry spent in the step-down specialty care unit was an additional level of hands-on training and preparation for the family to ultimately feel confident in taking Henry home.
"The Ambassador staff provided us with multiple methods of performing certain cares for Henry," explained Jenny. "Being able to see different ways of completing a process was helpful for us to find our own way, and completing it over and over again built our confidence and muscle memory. The Ambassador team was attentive, but they also allowed us our own space. It was great having a team dedicated to Henry because we always knew who was going to be taking care of him."
Physical and occupational therapy worked with Henry and his family to develop a customized and sustainable program to increase strength and muscle control. 
"Physical therapy was so great," stated Jenny. "Henry doesn't have a consistent napping schedule, so they would adjust to accommodate him. They taught our family exercises that we can do with Henry. I'm not trained in therapy, so having someone help me know what to do is huge. They also helped manage ordering the correct equipment for Henry."
With the goal to take Henry home, the Ambassador Health team was focused on providing the Ketcham family with freedom to care for Henry while he was in the care center, but also to experience short periods of time with him at home where they could be the sole caregivers. 
"During our home passes, we were able to see what it would be like to take care of Henry at home," said Jenny. "This time was good for us because we found out the things that would and wouldn't work and we could make adjustments before bringing him home permanently."
After four months at Ambassador Health Pediatrics, Matt and Jenny had reached the goal that they had from the time of Henry's birth - to take Henry home. They hope that their experience will be helpful for other families that may be faced with the difficult news that their child cannot go home directly from the hospital. 
"I know that it seems like an extra step, and I know that what is required seems like a gigantic mountain to climb, but the experience that you get at Ambassador sets you up to be successful at home," explained Jenny. "You think you can do it, but it will be more than you think. Use the staff to learn from and have your questions answered. Take charge, jump in and learn how to care for your child so that you can be successful when you transition home."