Image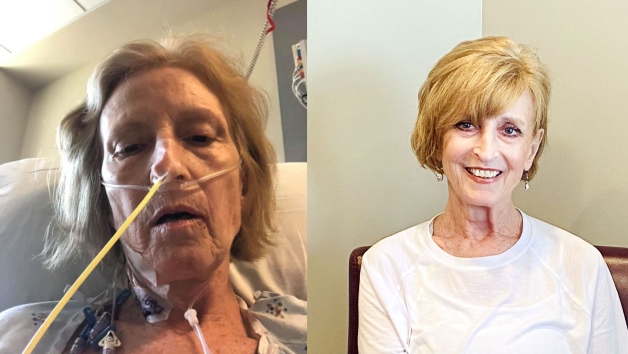 Joan Kreifels
*Pictured: Joan the day she was extubated and began breathing without the ventilator. Above Right: Joan after she completed her in-patient rehabilitation at Ambassador Health and returned to her own home.
 
COVID-19 Survivor & Transitional Rehabilitation VIP
When Joan Kreifels tested positive for COVID-19, she had no idea what the coming months would have in store for her. What began as flu-like symptoms, quickly escalated to shortness of breath, an admission into CHI Health Creighton University Medical Center – Bergan Mercy, and eventually being placed on a ventilator for several weeks.
 
"There wasn't one doctor who didn't tell me that he or she thought I wouldn't pull through," explained Joan Kreifels. "I was pretty much referred to as 'the miracle patient' at Bergan Mercy."
This title was given to Joan after she miraculously began breathing on her own the same day that she was scheduled for a tracheotomy, a surgical procedure to create a hole in her neck and windpipe to place a breathing tube. Once off of the ventilator, Joan transitioned off of the COVID-dedicated intensive care unit and began planning for the long road to recovery.
 
"I got winded and tired eating or just sitting up on the edge of the bed," stated Joan. "I couldn't stand, get out of a chair or basically do anything without a gait belt and two-person assist."
Joan knew that she would need to receive additional therapy before transitioning back to her own home and chose Ambassador Health's post-acute rehabilitation program. The physical, occupational, and speech therapists immediately set goals with Joan and set to work helping her to regain her strength, rebuild her endurance, and safely relearn how to complete activities of daily living.
"The therapists gave me the confidence to push myself to do more than I thought possible," said Joan.
After ten days of intense rehabilitation, Joan was ready to return to her own home where she would continue her therapy on an outpatient basis, while being surrounded by all of the comforts and normalcy that only "home" could provide.
"Ambassador Health is so much more than a nursing home," stated Joan. "If I would ever need some sort of rehabilitation in the future, I wouldn't even consider any other facility."
Joan, you are an inspiration to us all! Thank you for allowing Ambassador Health to be a part of your story.