Image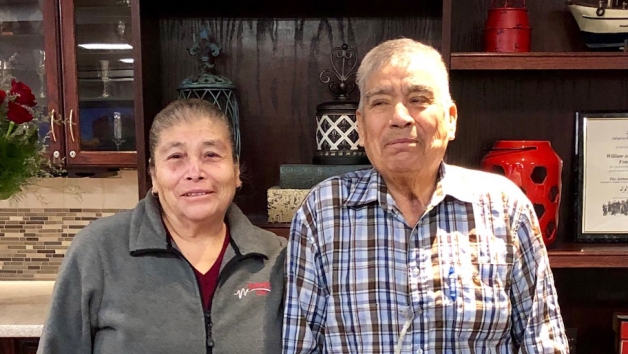 Juventino Quiroz
Pulmonary & Transitional Rehabilitation VIP
In July 2018, Juventino Quiroz began experiencing flu-like symptoms. As the symptoms worsened, his family became alarmed and decided to seek emergency medical care. Once admitted to the hospital, Juventino was treated for pneumonia. When his condition did not improve, Juventino's medical team continued to seek an answer for his rapid decline. After further testing, Juventino was diagnosed with West Nile Virus.
 
"His prognosis was not good, and it was hard not to think the worst," stated Jorge Quiroz, Juventino's son.
The virus quickly affected Juventio's body and he experienced respiratory failure and was placed on a ventilator to breathe. Juventino spent the next month hospitalized, while his condition stabilized and his family considered the "next step" for the long journey ahead. It was decided that Juventino would transition to the pulmonary specialty care unit at Ambassador Health of Omaha.
 
Upon arriving at Ambassador Health, Juventino was ventilator-dependent 24 hours a day. He could not stand, eat, or participate in his activities of daily living. Despite his prognosis, Juventino expressed a clear passion to improve and eventually be independent enough to go back to his own home. Along with his multi-disciplinary team, Juventino established a care plan and got to work on that plan.  
"It was clear from the beginning that Juventino wanted to get better, so our nursing team did everything we could to encourage him during his daily routine," explained Delores Williams, Pulmonary Unit Manager. "We started small, with helping him to get up each day and encouraging him to eat. Once he hit a milestone, no matter how small it felt, we looked for the next milestone to reach for. Consistency was the key."
In addition to his nursing care, Juventino worked closely with the respiratory therapy team to begin the process of weaning off of the ventilator. At the beginning of October, Juventino began tracheostomy collar trails, as well as utilization of the Passy-Muir Valve to strengthen the muscles in his upper airway that were not being utilized while on the ventilator.
"Juventino had so much determination and always wanted to push for more," said Tammy Douglas-Hill, Respiratory Therapy Director. "It was inspiring to watch him persevere and continually push himself to get better."
"As his breathing improved, our family became happier," explained Jorge. "And when we were able to hear him speak again, it was such a wonderful experience."
In December, Juventino had progressed to the point of being off of the ventilator overnight. Shortly thereafter, his tracheostomy was capped and eventually removed. In addition to his respiratory success, Juventino, continued to make monumental strides with physical and occupational therapy. A man that was once unable to stand or walk, was now standing and walking alongside of his therapy team.
"I trusted in God and I trusted that the staff were giving the best care," stated Juventino. "In situations like this you have to keep the hope, even when it can be hard."
As Juventino prepares to transition back to his home with family, Ambassador Health is thankful for the opportunity to be a part of such a miraculous story. Continue to be the champion you are, Juventino!
Juventino received individualized care from the nurses, therapists, and respiratory team found on the Pulmonary Specialty Care unit. Learn more about Ambassador Health's ventilator and pulmonary care.